Written by: Pam Platt, WaterStep Communications Specialist
Six hours, 7,000-plus miles, and an ocean separate WaterStep's Louisville, Ky., headquarters from the Rubavu District in the Western Province of Rwanda in Africa.
But the distance is shortened by explosions of available, affordable, advancing technology and the honing of virtual training between the non-profit and its worldwide partners who use its equipment and imparted knowledge in providing safe water to save lives in their communities. 
This day's partners are Albert Mucunguzi, Francine Muhawenimana, and David Bucura. They are in the Rubavu District and ready for their all-important, online "train back" session. It is designed to demonstrate that, between an earlier online training session and practical use of the equipment in their possession in the meantime, they have learned how to use WaterStep's ChlorineGenerator and BleachMaker to provide safe water for the Children's Peace Libraries in their area. If they are successful in this session, in teaching their teachers, they will earn certificates showing their proficiency with the equipment and training.
The peace libraries, situated in six places throughout Rwanda, are centers for children's learning and literacy, as well as mediation and conflict resolution (http://tlcrwanda.org/our-program/libraries/ ). That life-saving and -enhancing information for a formerly war-torn nation's young souls and spirits soon will be bolstered by the same sort of information for the young bodies in an underdeveloped country working to improve its citizens' physical health, too.   
In this same session, the adults operating on behalf of the peace libraries also will take a WaterStep class in how to teach personal hygiene – including proper hand washing, how and why to bury poop 200 feet away from a water source, and how to build fly traps to cut down on the insects spreading bacteria.
There's no shying away in the teaching or the learning about poop and flies. Even if most Americans are oblivious to life beyond our comforts of safe water and sewage systems and their protections against waterborne illness, much of the world, including Rwanda, isn't similarly positioned. But they're working on it. Hence, these sessions. For them, this is life-and-death stuff, and so WaterStep's plain talk and poop and fly props are part of it.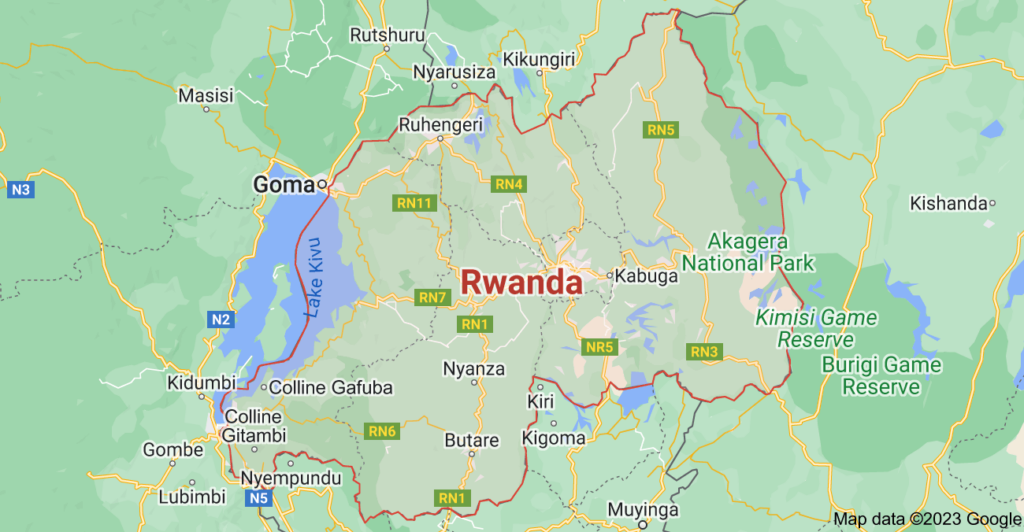 On this side of the ocean, preparing for the encounter with Albert, Francine, and David, are Kurtis Daniels, director of training and field operations, and Claudia Daniels, director of international partnerships and missions.
For that, the husband-and-wife WaterStep duo are in what has become the second-floor studio in the WaterStep building for online training sessions with partners around the world – this day, Rwanda. They've gathered their props, most of which correspond to what the Rwandans will be using in this "train back" – including ChlorineGenerator, BleachMaker, salt, water, hoses, and more.  
From the early days of Skype through today's FaceTime and Zoom platforms, Kurtis and Claudia figure they've led such digital encounters with at least 240 groups over a dozen years.
The worldwide Covid pandemic reinforced the need and value of the online training, enabling the continuation of the efforts to combat crises created by unsafe water in times when Covid limited or restricted travel. WaterStep already was positioned to keep on keeping on.
Kurtis recalls the genesis of the online option coming from WaterStep Founder and CEO Mark Hogg, who thought it was a great idea. Kurtis disagreed. He thought the face-to-face training meetings, such as the roughly 60 he had conducted before the digital revolution, were part of the WaterStep brand. Indeed, he said he thought going digital was the "stupidest idea" he'd heard.
The early technology lent credence to his point of view.
The available online platform couldn't be brought up on phones back in the day but required laptops with cameras added and more people to do the sessions. But he recalls that the first session, with Raphael Wanjala and his team in Kenya, went well despite the difficulties, and pointed to a future for the training that would only continue to open up.
Kurtis is happy to say now that he was terribly wrong, and the online option not only works but builds relationships. Claudia says the same. Basically, WaterStep and its partners can "see" and talk to each other anytime they want. For the record, these partners become part of WaterStep Nation and remain in contact with the organization on a regular basis. The partners also continue to help their neighbors find the success they have found in providing safe water.
Yes, like everyone else's digital sessions, sometimes there are internet glitches and sometimes there are lag times and interruptions in service. Sometimes translators even are needed.
In two words: Big whoop.
Given the distances and the underdeveloped infrastructures of some of the partners' locations, that's not surprising.
What may be surprising are the patience, persistence and good humor of those involved in what could be a frustrating exercise for the instant-gratification crowd. But it's none of those things because everyone in the sessions knows the stakes involved. They're in it for the long haul, and what's a little mute-button forgetfulness, disconnection, or buffering delay when you're trying to help people deliver themselves and their towns and countries longer and healthier lives with these relatively easy-to-use machines? So far, WaterStep and its partners have impacted 11 million lives in this way.
Here's how.  
Time and technique have produced efficient and effective encounters in two parts:  
The training part, led by Kurtis and Claudia, in which they teach their online students how to use the life-saving equipment, transforming their communities and community health with chlorine and bleach they will produce themselves, and with hygiene techniques they will use. The equipment already is in the hands of those who will train on it and then will use it.
The second part, called "train back" or "teach back" in which the trainees, having had the first session, and having used the equipment and read the accompanying manuals, reflects what they've learned from WaterStep and practiced back to their WaterStep teachers in Louisville, in a painstaking, step-by-step demonstration.
While all the training is important, Kurtis believes the second part is the most important for the trainees. It also can be thrilling and moving to watch. And, at times, a hoot.
In the Rwandan "train back," as Kurtis in Kentucky followed Albert's instructions from Rwanda, Albert was quite the taskmaster in questioning and ensuring that Kurtis had not skipped any steps, and that he had added the precisely correct amounts of salt or water to containers. He even instructed Kurtis to hold the container up to the camera so he could see for himself.
Kurtis still believes boots on the ground are best in some situations, such as disasters. But the online training and its built-in distance keeps the teachers in their place, keeps them from taking over and doing things for their students, and allows the teachers to be encouraging about what their students have done for themselves. The online option also saves money on travel and expenses for WaterStep trainers, freeing up more to be spent on equipment for more people and partners.
But the biggest selling point for the online training comes in one word: Empowerment.
"Once they've done it," Kurtis said, "it's 100 percent them."
And Kurtis is emphatic in his belief that WaterStep has been "leaps and bounds" more successful in its mission because of that empowerment.
His very first online student, Raphael Wanjala of Kenya, agrees.
Like Kurtis, initially Raphael was skeptical about picking up skills if he and his team were not personally trained. Likewise, balky internet access and time differences played into his hesitancy about this first online training about 12 years ago. But, sounding like the Xaverian brother he is, Raphael said the difficulties were overcome by "divine intervention," that and the team building that took place as the Kenyans approached the challenge.
"We had faith in each other," he said of his own team and the WaterStep team. "We trusted each other."
The "train back" was the most powerful part of the training, Raphael said. They were taught and then they had to teach the WaterStep teachers every step of safe-water production with the equipment. The positive reinforcement, and the small corrections offered by Kurtis and others, were the "marking point of our success," Raphael said.
Raphael has lost count of how many groups he has gone on to train, how many community groups, schools, churches, health care workers and volunteers, all the "thousands and thousands" of Kenyans who have benefited, whose lives have improved with safe water, from the training and the training back.
For him, too, the "unique," secret ingredient in all this is the empowerment of instruction, tool, teaching and teaching back. Of ownership of implement and information. And it's the sense of relying on one another, of knowing that if one person missed something in the training, another trainee would have picked it up.
"If I know one thing," Raphael says on FaceTime from Kenya, "I don't know anything about everything. The wisdom comes in asking someone else."
That's also where the joy comes in. "Students become much better this way," he said. "I know I am a better person because I've been exposed to working more closely with people I never thought I'd meet."
That's the team part of the equation he said springs from this safe-water training. He reflects on the transformation part, too, engendered by the tools and skills, and emphasizing positive behavior and change when it comes to hygiene and hydration, too.
Raphael says all this from the vantage of many years since the first training and "train back" sessions. The Rwandan team are about to find out what their Kenyan counterparts have known for a little while:
The WaterStep certificates they earned will make it official, but it will be something grander, greater, and more personal when they learn that all this empowers them, in Raphael's words, to go out and make a difference in a big world made better and healthier because of what they have learned and what they will share.