Written by: Pam Platt, WaterStep Communications Specialist
Lily Pad network introduced to potential future operators, users
In its 28-year history, WaterStep has responded to 32 disasters – including an Ebola outbreak, the COVID-19 pandemic, a war, earthquakes, hurricanes, floods, tornados, a volcano, and a typhoon – with safe water equipment and sanitation and hygiene training for stricken residents in each place.
Though the Louisville-based, nonprofit organization has built a global reputation for its work in dozens of foreign countries, perhaps less-known are its 11 disaster-relief efforts in the United States – Iowa, Louisiana, and Kentucky, among them – and in the U.S. territory of Puerto Rico.
Even as WaterStep's international efforts also continue to expand – more on that soon – the organization's domestic profile is about to change with the advent of the Lily Pad Disaster Response Network, introduced on this blog just last month: https://waterstep.org/the-latest-words-in-kentucky-disaster-relief-lily-pad/
The Lily Pad network will first engage in WaterStep's home state of Kentucky, but it could become a template for disaster preparedness and response in other U.S. states. Stay tuned.
Briefly, Lily Pad is an agile network that will be staged throughout Kentucky, as WaterStep collaborates with nonprofit groups, corporations, local officials and state agencies, and others interested in emergency and community preparedness and response.
WaterStep's time-tested chlorine- and bleach-making equipment is carried on Water on Wheels (WOW) carts, developed in a collaboration between WaterStep and the Environmental Protection Agency.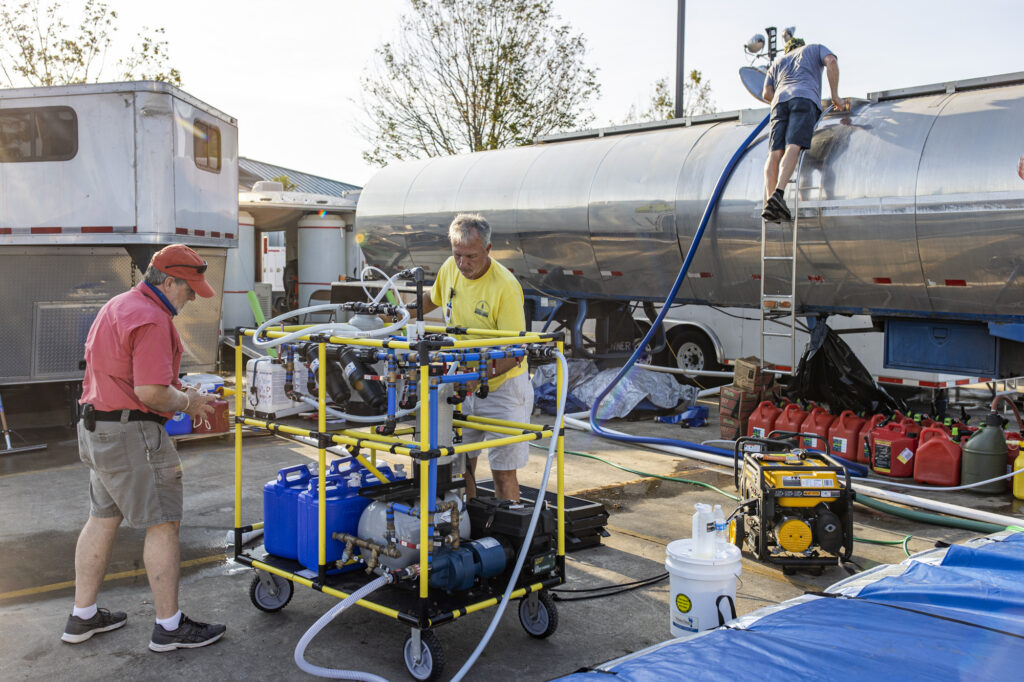 In Lily Pad, the WOW carts will be stationed strategically in at least a dozen positions throughout the state – on the ground, and within one hour of any Kentucky community before disasters happen, with trained operators at the ready, too.
The new network is an expansion and amplification of seminal experiences from the Western Kentucky tornado of 2021 and the 2022 floods in Eastern Kentucky. In answering both disasters, WaterStep worked with officials and agencies to provide safe water for first responders and residents after unimaginable destruction and prolonged recovery. And all learned plenty for a more prepared future.
Recently, during National Preparedness Month, more than two dozen emergency response and health care representatives from communities throughout the state met at a Kentucky Department for Public Health (KDPH) warehouse in Frankfort for an informational introduction to the WoW cart and its deliveries in times of disaster and need. Times when safe water availability and production are in short supply and in great need.
WaterStep instructors Kurtis Daniels and Lynn Smith walked the attendees through the whats and hows of the cart and its ChlorineGenerator, which can use table salt and electricity or, if electricity is not available, a car battery. The combination provides the electrolysis process that produces life-saving safe water with whatever water is available as other perks of modern life have been wiped out.
In its own material, the EPA touts the WOW carts for capabilities – one cart makes up to 10 gallons of safe water per minute, on-site; for power supplies – battery with solar recharge, and a dual fuel generator with propane and gasoline; and for mobility – it weighs less than 500 pounds, fits in the back of a pickup truck and can be transported by two people … much sleeker and easier, and better for the environment, than pallets of plastic water bottles carried on semis.
At the session, Smith and Daniels also presented the BleachMaker, first developed by WaterStep to help combat the 2014 spread of the Ebola virus in Africa. The BleachMaker delivers a sustainable, low-cost ability (available water, plus table salt) to produce medical grade disinfectant (diluted for household use) that meets World Health Organization  standards anywhere in the world.
Session attendee Vickie Siedel is the readiness and response coordinator for the KDPH West Kentucky Health Care Coalition. As such, while also wearing her other hat as Graves County deputy emergency management director, she was involved with the December 2021 emergency response to a long-tracked EF4 tornado that cut through 11 counties and devastated communities including Mayfield, Dawson Springs, and Bremen.
She recalls hearing a hotline message from WaterStep right after the tornado: We have a WOW cart and we're coming to you.
Siedel said she had no idea what a WOW cart was, but thought she and her team would figure it out when the help arrived. Besides, she said, clean water wasn't even on their minds in those early hours, they were trying to clear roads and find people. She hadn't considered that their clean water supply would be gone, too.
In recounting her initial reaction to the catastrophic effects of the tornado, Siedel underscores part of the beauty of the new Lily Pad network: The safe-water equipment is already close by. People in-the-know already know what it is. And they've already been trained on it.
But what Siedel knew from the 2021 disaster was that the storm had destroyed area fire department and EMS buildings, fire department personnel from other communities were going to be arriving, and the health department, spared from damage, did not have enough showers or sanitation space for the demands of this emergent time. They needed a continuous source of water for first responders … and residents, she recalled: Semi-truck loads of bottled water don't make a shower, nor do they flush toilets in rural areas.
Siedel said WaterStep's team went right to work upon arrival, and were "very understanding" and integrated well with other responders, working nonstop to set up tanks and storage for safe water using the equipment they brought with them.
"We didn't know what we needed but it came to us and it was phenomenal," Siedel said, of WaterStep and others who pitched in.
Attendee Casey Clark is readiness and response coordinator with the KDPH Mid-West Kentucky Health Care Coalition in Owensboro. He said he had heard good things about the WOW cart from Dave Carney, KDPH regional response and coalition coordinator, but knew almost nothing about the instruments or program himself.
Initially he thought the number of valves on the cart might intimidate people just learning the equipment, but that concern was allayed during the session: In-person training is comprehensive (and there also is a user's manual with each cart), and after the introductory lesson Clark thought "it's not that hard to figure out."
Clark also was impressed with the relatively small size and great mobility of the safe-water equipment, meaning it would be easier to get into place especially during disasters, and how even one person could run the system in emergencies.
Trevor Graves, a maintenance technician at Cumberland County Hospital in Burkesville, also belongs to a family long and deeply associated with emergency management where he lives and works and has briefed them on what he has learned.
Graves' main impressions also hit on the main points of the planned Lily Pad network:
The simplicity of the WOW cart, and how anyone could operate it with the training.
How the small size of the equipment, plus storage units for the safe water it produces, makes it more "manageable" to get to and fro in hard to reach locales (check).
And how available safe water, especially amid the chaos and mess of a natural disaster, could help establish hope in people coping with their upended lives, a step back toward normalcy.
We'll have more on the Lily Pad Disaster Response Network as news develops.