Every year, World Bee Day is celebrated on May 20. Many people don't realize that WaterStep has four beehives on our roof, housing around 100,000 busy bees. The hives are specially made and hold only seven frames per box instead of the usual ten, because they have to be hauled up and down from the roof via stepladder through a narrow hatch.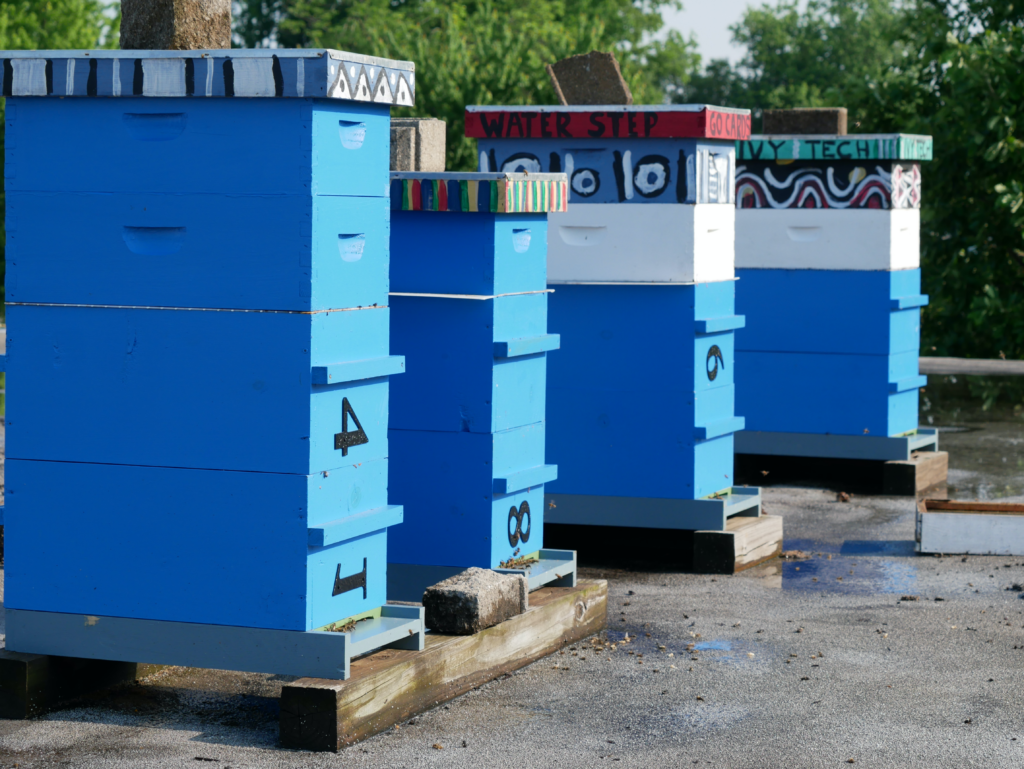 Dave Roos, an experienced beekeeper of 20 years, as well as a WaterStep Shoe Ambassador, maintains the hives for us and harvests the honey at the end of the season. Dave recently told us, "The flat asphalt roof apparently is a great place for bees, if not for beekeepers on a July afternoon in the Ohio River Valley. They enjoy full sunshine all day long, they're pretty much free from animal or human intruders (besides me), and they have a clear flight path to anything blooming in Old Louisville." Last year, the WaterStep bees produced more than 140 pounds of honey.
The honey is bottled and labeled with our Miss Myrtle's Pure Honey brand. The name was inspired by WaterStep's address on Myrtle St in Old Louisville. Much of the honey is given as gifts to donors and friends of WaterStep. A few bottles are sold at a local craft store and proceeds go right back to fulfilling WaterStep's mission of saving lives with safe water.
World Bee Day was originally proposed to the United Nations by the country of Slovenia. According to the country's World Bee Day website, "Bees are some of the most important pollinators, ensuring food and food security, sustainable agriculture, and biodiversity, and they significantly contribute to the mitigation of climate change and the conservation of the environment. In the long-term, the protection of bees and the beekeeping sector can help reduce poverty and hunger, as well as preserve a healthy environment and biodiversity."
We are thankful the WaterStep bees are helping to preserve a healthy downtown Louisville and wishing all of our friends a Happy World Bee Day!