Reposted with permission from Southern Indiana Works: 
Beginning this year, and during the 3rd quarter, SIW committed to "Quarterly Outreach" projects. With this being our first outreach project, we needed some guidance on a place to start. Ron McKulick, previous Executive Director at SIW, introduced us to WaterStep which is an organization that collects shoes to provide safe drinking water to communities in need. Three pairs of shoes gives safe drinking water to someone for life.
To keep things interesting, we decided to split everyone up into 4 teams and let competition take the lead. Our goal was 15 pairs per person with a goal of 135 pairs of shoes per each team. Our teams included Green Tennis Shoes, Blue Boots, Yellow Crocs, and Red Rainboots.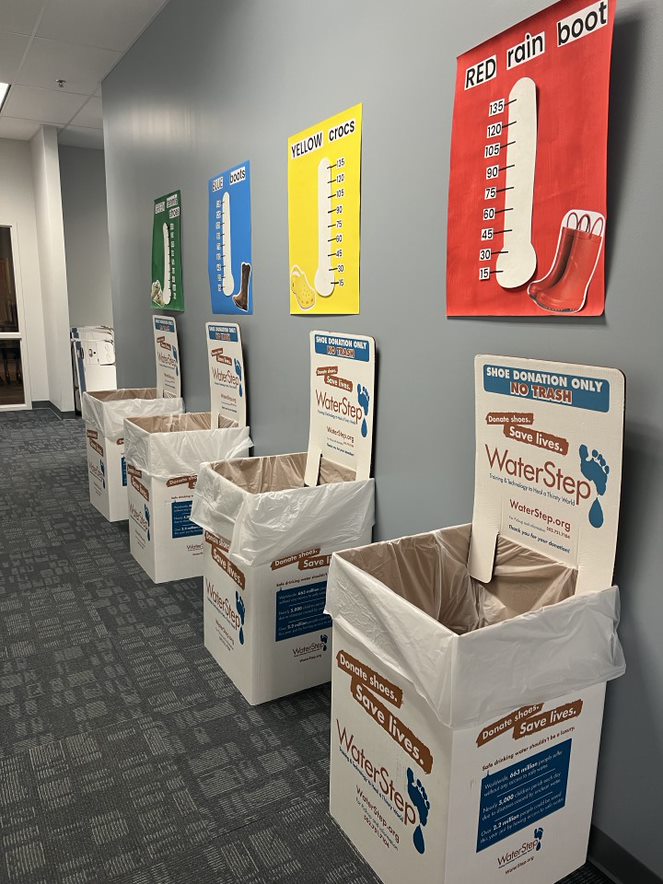 We surpassed that goal bringing in over 1,200 pairs of shoes, 1,286 to be exact! This allows for more than 420 people to have safe drinking water for life. Safe drinking water has been proven to increase children's attendance in schools, improve public health, and provide stability to entire communities.
If you would like to host your own outreach project with WaterStep at your workplace, we encourage you to please reach out. A unique aspect of WaterStep is that it requires no monetary funding from participants. It is a repurposing and recycling project that creates a huge international ripple effect. It is also an easy project to turn into a competition, that is always fun for all involved. You will really be able to identify the competitive members on your team and see creativity come to life.
Thank you Southern Indiana Works for joining WaterStep Nation and making a global impact with your shoe drive!