WaterStep relies heavily on our shoe program to fund our mission of saving lives with safe water around the world. We have drop-site locations all over Louisville, and in several other major cities as well. The shoes are collected by volunteers and brought to our headquarters in Old Louisville (shoes are pictured below waiting to be sorted). When COVID hit in March and everything shut down, the shoes stopped coming in and we had to temporarily close the building to volunteers. We were a bit concerned how we were going to move forward during the pandemic.
Cue our volunteer duo extraordinaire: Don and Shelley Lockhart! They had been volunteering at WaterStep for the last three years after attending one of our Save A Life Tours. Shelley started out sorting shoes and Don, a retired airplane mechanic, joined the manufacturing team and got to work building equipment. Unfortunately, Don suffers from macular degeneration and his eyesight got bad enough he could no longer work in manufacturing. He joined Shelley in the shoe department and they have been volunteering together ever since.
A month into the shutdown, and bored because all the charities they volunteered for were closed, Don and Shelley called our facilities manager, Tyrei Hanlon, and asked if there was anything they could do. WaterStep was busily deploying BleachMakers into the field, so Tyrei had Don and Shelley come in and put BleachMaker manuals together. They are pictured below (masked up!) working hard to get the manuals completed.
Once that project was complete, WaterStep was fortunately beginning to get shoes into the building again. Don and Shelley started sorting shoes and have been coming in Monday-Thursday ever since. They said they feel completely safe because our building is very large and there are so few people there. This dynamic duo filled four of our six semi-truck loads of shoes that went out last year!
Shelley loves the fact that they are saving the landfill through WaterStep's shoe program. Don said, "I love that we are helping provide safe water to people who don't know what safe water is."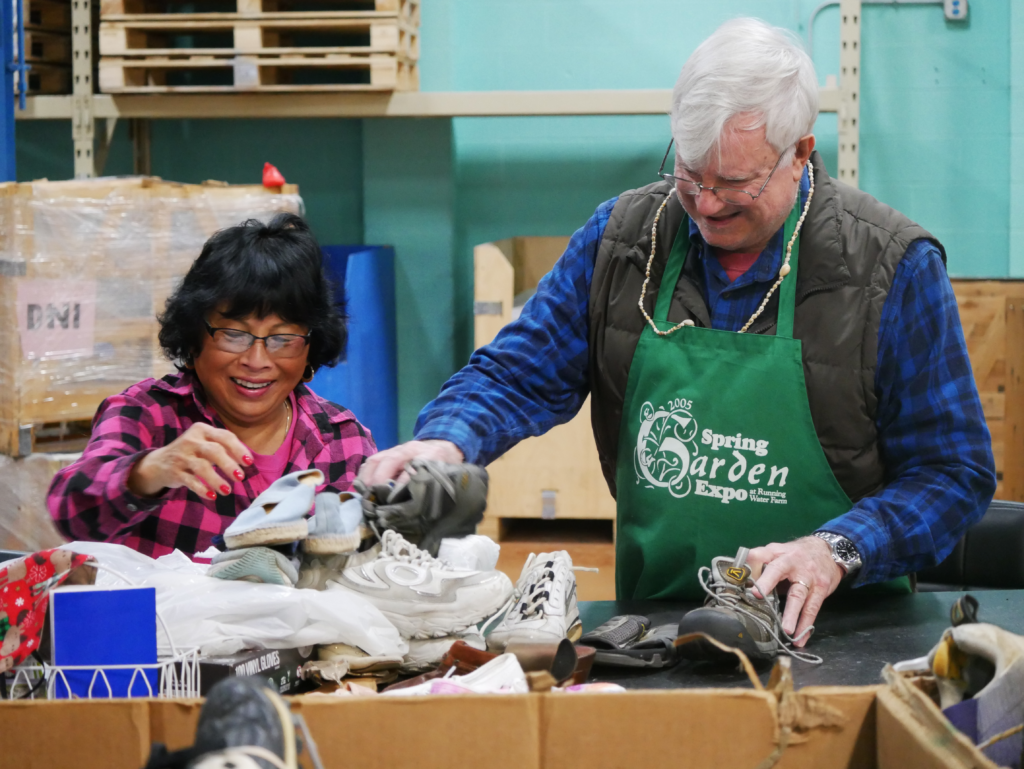 Thank you, Don and Shelley, for your dedication to WaterStep and for the impact you are having with our shoe program. We hope you will be a part of our family for many years to come!