WaterStep has been blessed to work with amazing interns from Holy Cross High School this year. They spend one day a week at WaterStep where they truly become part of our staff, engaging in team meetings, day to day business and special projects. Tyrei Hanlon has been overseeing our internship program for the 2018-2019 school year. Tyrei said, "The interns have made a huge impact on WaterStep. Seeing how much they've grown since their first day has been amazing.They are a great addition to WaterStep."
On April 16, interns Nick Reed, Hunter Hieatt and Kaden Huiet (pictured above with Tyrei Hanlon) led a group of students from Holy Cross High School through a WaterStep presentation at WE Day in downtown Louisville. The WE Day event is part of Mayor Greg Fischer's Give A Day – Mayor's Week of Service where thousands of local students came together to celebrate their year-long community service projects. 
The WaterStep team led fellow students through a demonstration where they experienced the difference in carrying water in a container on their head versus easily pushing a WaterBall (a water transport tool that was developed by WaterStep). Nick Reed, pictured above with Mayor Greg Fischer, said, "WE Day was a great experience and it was a privilege to be there. I learned lessons in life and business that I will use forever. Thanks WaterStep for the opportunity!".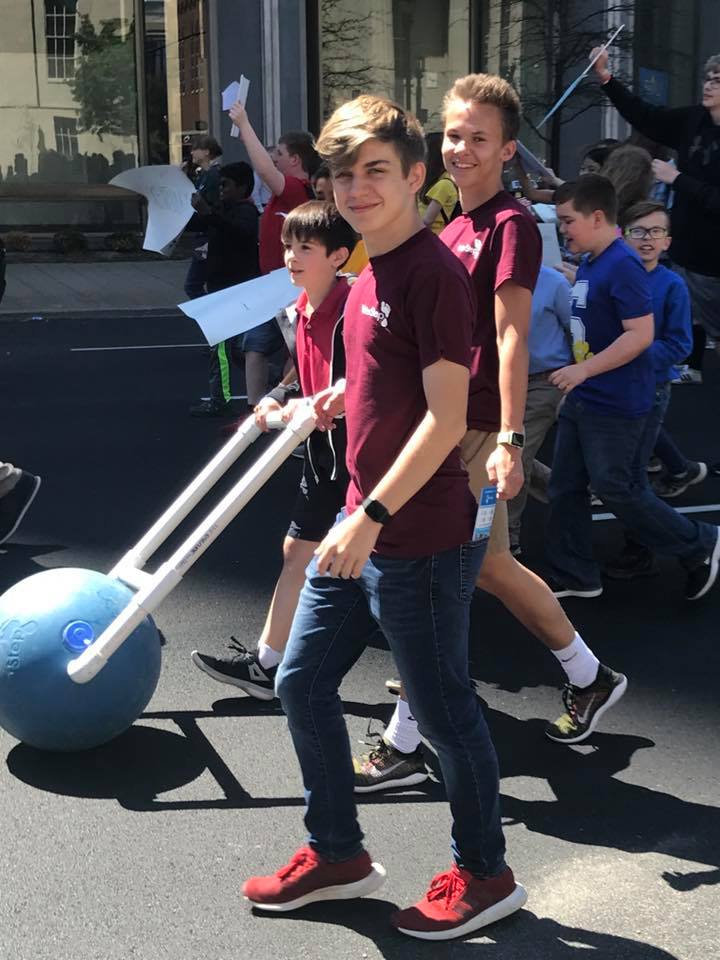 "WE" is a movement that brings people together and gives them the tools to change the world. Students could not buy a ticket to WE Day. They had to earn it by completing one global and one local service project. Hunter Hieatt was one of the WaterStep leaders at the event and said, "I had a great time at WE Day. This was my first time there and we were running our booth. It was awesome to take on the challenge. It's amazing to see the younger generation come together and join in the stand for volunteerism. I would love to be a part of it again."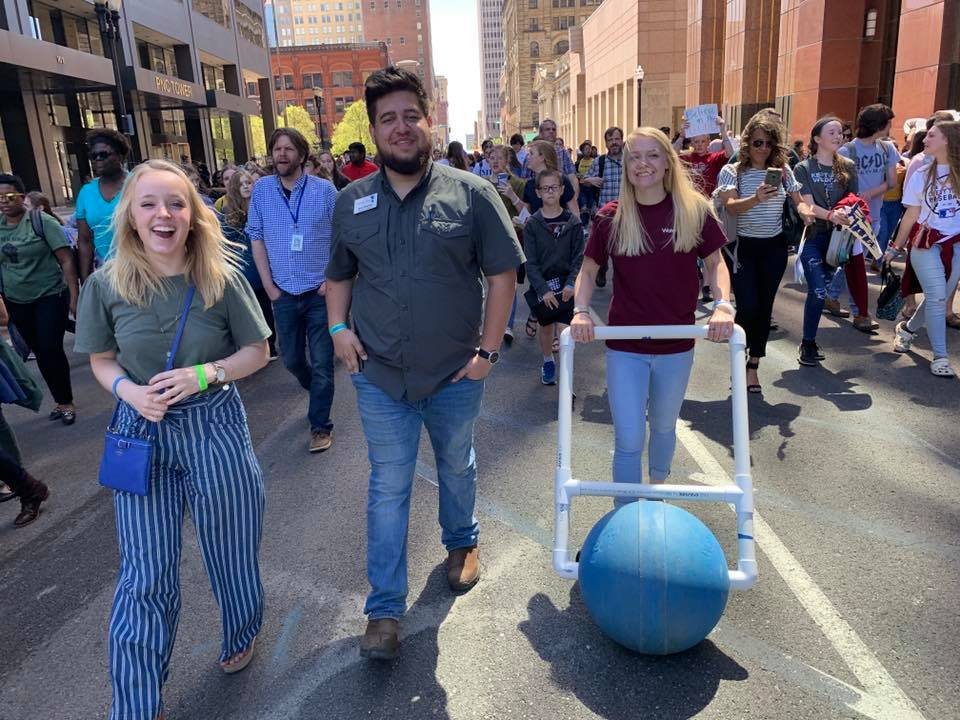 The event culminated with a "WE Walk for Compassion" where students walked around downtown Louisville carrying posters showcasing the causes they are passionate about. Our WaterStep team proudly rolled our WaterBalls to demonstrate that water is not easily accessible in most countries around the world. WaterStep intern Kaden Huiet said, "WE Day was a huge success. We were lucky to be able to share WaterStep's message with such an eager group of people." Congratulations to our interns for the amazing job they did representing WaterStep at WE Day 2019!