WaterStep is incredibly fortunate to have University of Kentucky graduate student, Jennifer O'Brien, working on data collection in Kenya this summer alongside WaterStep Ambassador, Raphael Wanjala. Jennifer is a self-proclaimed data nerd and is completing an international practicum while in Kenya that will bring her one step closer to a masters degree in public health. 
Jennifer's focus within her degree is on epidemiology: the study of disease and the branch of public health that focuses on how you track diseases within a population and how to stop the disease before it spreads. Once Jennifer was introduced to WaterStep, she knew it was a perfect partnership for her practicum. How do you stop the spread of waterborne illness? You make the water safe before people drink it. This is the core of what WaterStep does in the communities we serve.
Jennifer and Raphael are traveling around to communities in Kenya where WaterStep has installed safe water equipment. Their main goals are to see if and how the equipment is being used and to collect data on how the population has been impacted by having safe water and improved sanitation. Jennifer said, "From a public health standpoint, it's amazing to see how communities take complete ownership of their water. Every time we go into a community and ask them to show us their water, their faces light up and they can't wait to show us their water source. It's often a contaminated bore hole with lots of trash floating on top, but they are so excited they can use the water because of the equipment they've been given to make it safe."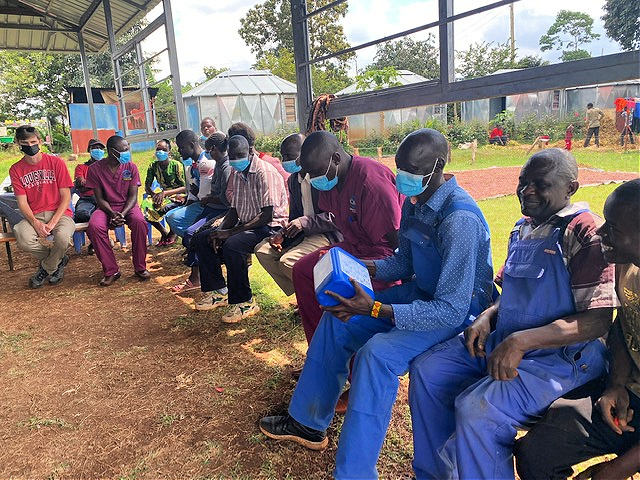 Jennifer went on to say, "It's been amazing to see how impactful the tools have been in the communities. I always feel so celebrated because the people are so thankful and so excited to see us. I've received chickens and bananas as gifts. When we ask how we can continue to help, they always say they want more. More equipment. More WaterStep. Not a single group has said they aren't using the tools. Every community is using the equipment and wants more, more, more." 
For the last five years, Jennifer has taught biology at Frederick Douglass High School in Lexington, KY, focusing on biomedical sciences through Project Lead the Way. She told us one of the biggest opportunities within the program is giving exposure to public health. Jennifer will take the knowledge she has gained through her masters program and practicum and apply it in the fall in her new position, teaching in a Maryland high school classroom.
Thank you, Jennifer, for choosing to work with WaterStep this summer to complete your international practicum. We look forward to more partnerships in the future!