WaterStep was blessed to be a stop on Haiti's Musical Ambassadors Les Petits Chanteurs US tour. They joined us for lunch and then learned about who we are and why we do what we do. We shared with them about our work in Haiti after the 2010 earthquake and the hand pump repair work we do in their country today. 
The students had been traveling for hours by the time they arrived at WaterStep, so Mark decided to help them wake up by leading them in stretching exercises! 
The students were trained on our equipment and one of them, Dure, will be taking a M-100 ChlorineGenerator (to make water safe to drink) and our proprietary BleachMaker (for sanitation) home to his community in Haiti. He missed out on a day of fun in Louisville with the rest of the choir in order to get  the additional training needed to set up the water system when he gets back to his community. Dure said, "I see the people in the community I am from using the same water the animals are using. I want to help them get access to water that won't make them sick."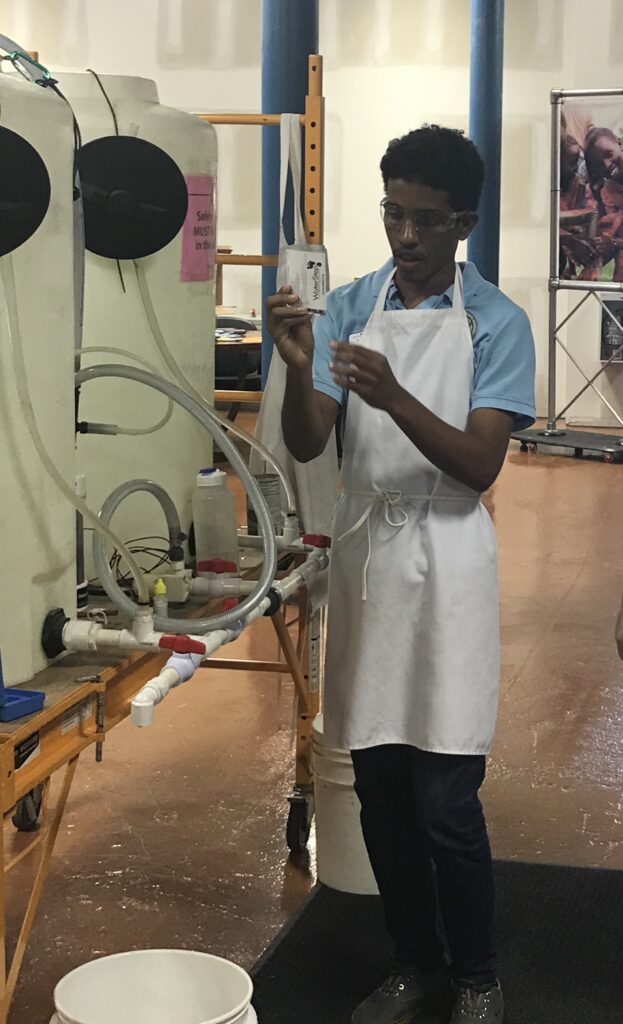 The day Dure came back for training was the same day as our monthly Save A Life Tour (SALT) at WaterStep. Our visitors got to hear Dure share (through a translator) the story of his community and why he wanted to help. He said, "I love people and I don't like to see them suffer." He talked about the long distances they had to walk to get water for their families and how important water is to a community's survival. While touring WaterStep, he found the solution to the problem in his community. He said, "I used to bless people through my singing, now I can help with safe water." 
We applaud Dure's compassion and motivation to help the people in his community. We are excited to welcome him into WaterStep Nation!